Jet's Value Proposition
About
How might we explain to our customers that Jet is a marketplace that provides savings through operational efficiencies?
Goal
User's goal: to understand the value that Jet could provide as a shopping platform.

Technology's goal: to create a more sustainable and scalable platform.

Business's goal: to provide a clear reason to shop at Jet in order to acquire more new customers and allow for bigger baskets.

My Role
·Concept definition
·UX Lead
·UX Design
·Visual Design
·Production Design

Credits
UX Design Direction: Miguel Fernández
Visual Design: Jessica Anerella , Pablo Dodda
Research: Ben Babcock
Prototyping: Russell Calder
The challenge
As Jet changed its business model and decided to move away from being a membership club, the design team was challenged to explain the company's value proposition: The ability to provide "Smart savings" through a number shopping decisions across the experience.



Smart Savings:
Jet finds operational efficiencies around the e-commerce logistics and translates them into savings for its customers.

Customers can save in Jet by:

Opting to pay by debit instead of debit
Waiving the right to free return.

Buying items that ship from the same warehouse.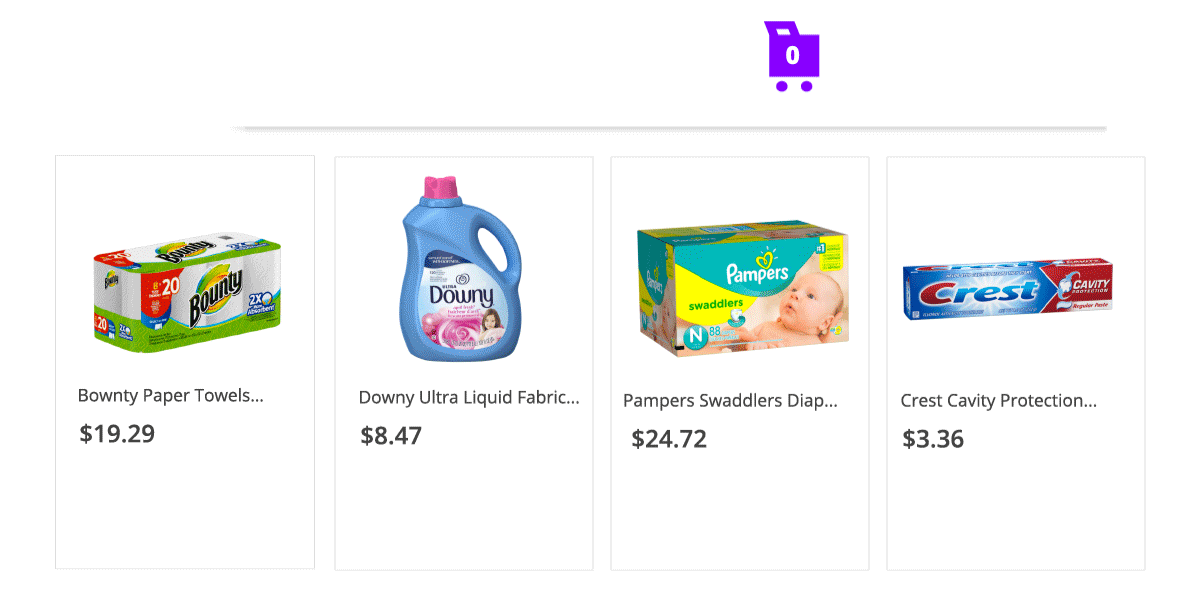 Research
After conducting an extensive research a few weeks after launch (surveys, in-person Testing and site analytics) we identified customers had three main issues with Jet's shopping experience and value proposition.

1. Customers had a hard time trusting a new and unproven company as Jet.
2. Customers who bought at Jet did not repat after their 1st purchase .
3. Customers did not understand the actual value of "extra savings".

In order to iterate in a fast manner with "real" data the design team, with the help of 2 developers, managed to build a "sand box" version of Jet's production site. This allowed us to test multiple versions of the experience with real customers as they navigated through key shopping decisions.


Design Iterations
After multiple months and multiple iterations of the experience, we had already a comprehensive list of validated findings and solutions.

1st Finding:

Customers began to understand how they could get value until they had added a couple of items to the cart.
Design solution:
A persitent cart was designed to show how prices were going down in real tim as customers shopped.
2nd Finding:
Customers had a problem doing the math and figuring out how much the items really cost.
Design solution:
Show lowest final price in real time across the experience.
3rd Finding:
Customers had a problem making all the savings decisions along the journey and did not understand how much value they could get.
Design solution: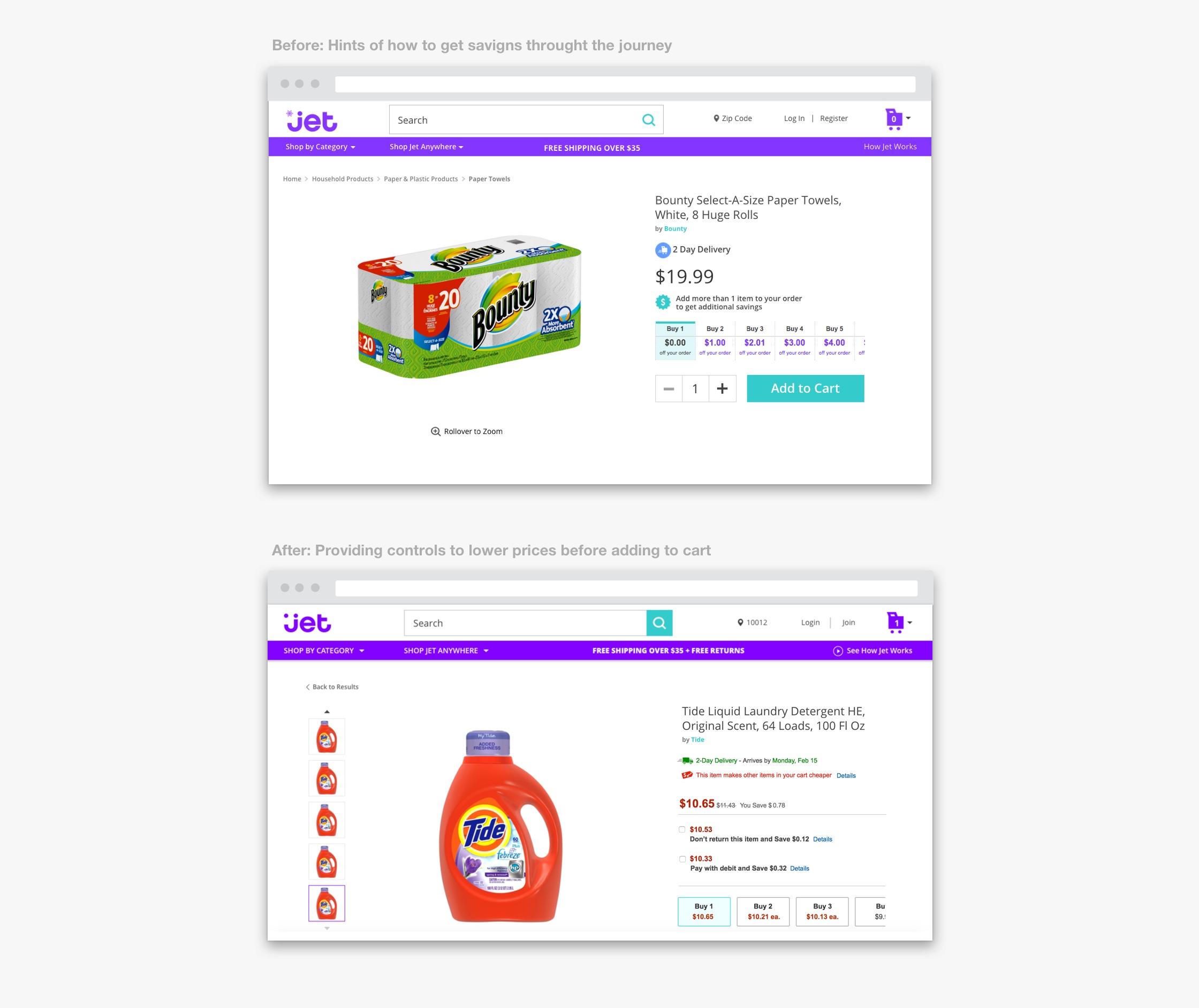 4th Finding:
Customers were missing how prices were going down in real time.
Design solution:

Provide guidance and celebrate value with animations.
The solution
After a few more iterations, we decided on the final interactions and translated them to a complete story across the experience.

1. We switched our language on our marketing material around value from "savings" to "low prices".
2. We began the experience providing what customers associated with baseline shopping experience instead of talking about all the "new" features, in order to bulid "trust".


3. We exchanged all language around savings and showed lowest possible price in real time.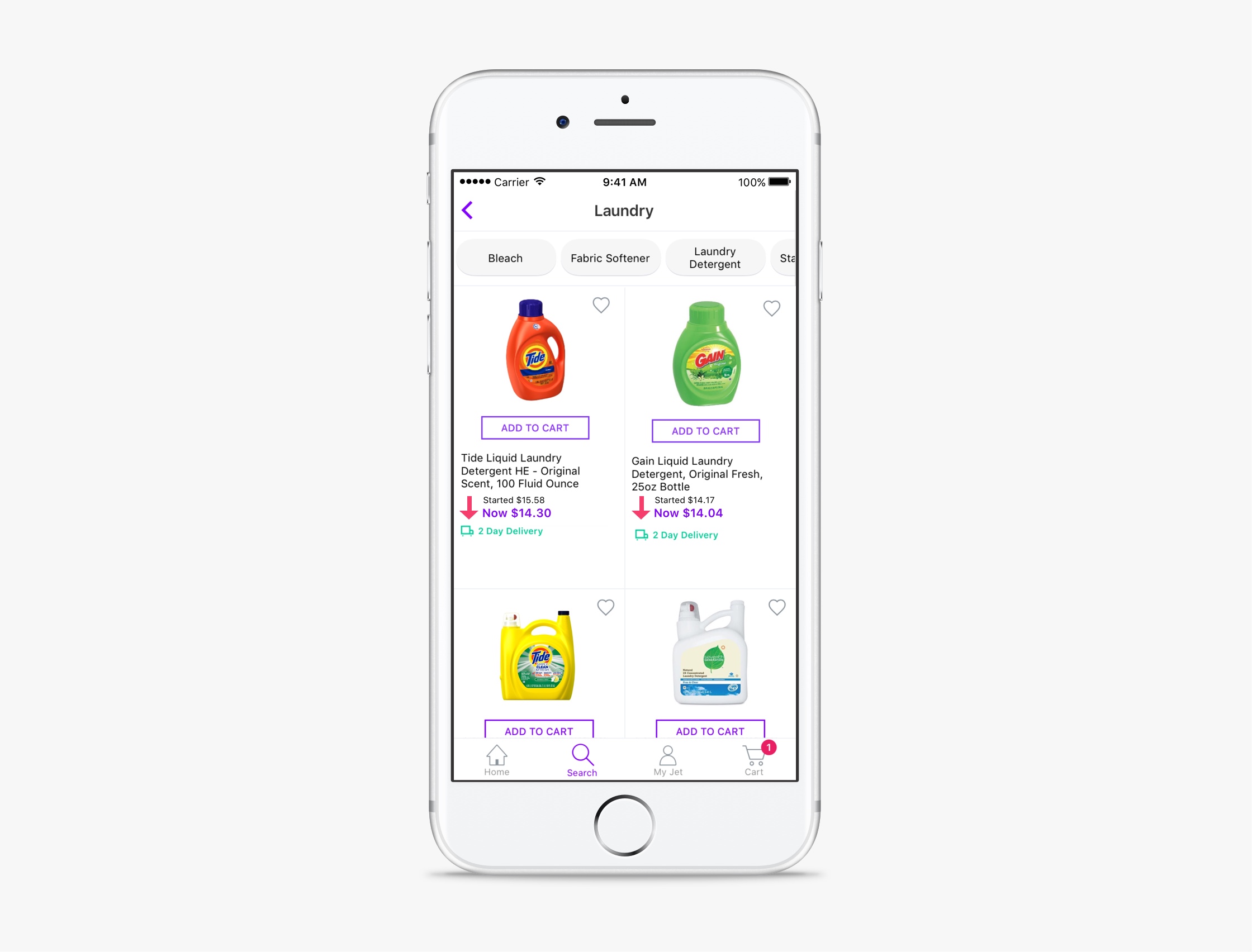 4. We provided control over how low the prices could go and used familiar colors to show value.




5. We showed value where it mattered (at the moment of adding to cart) and we celebrated it with color and animation.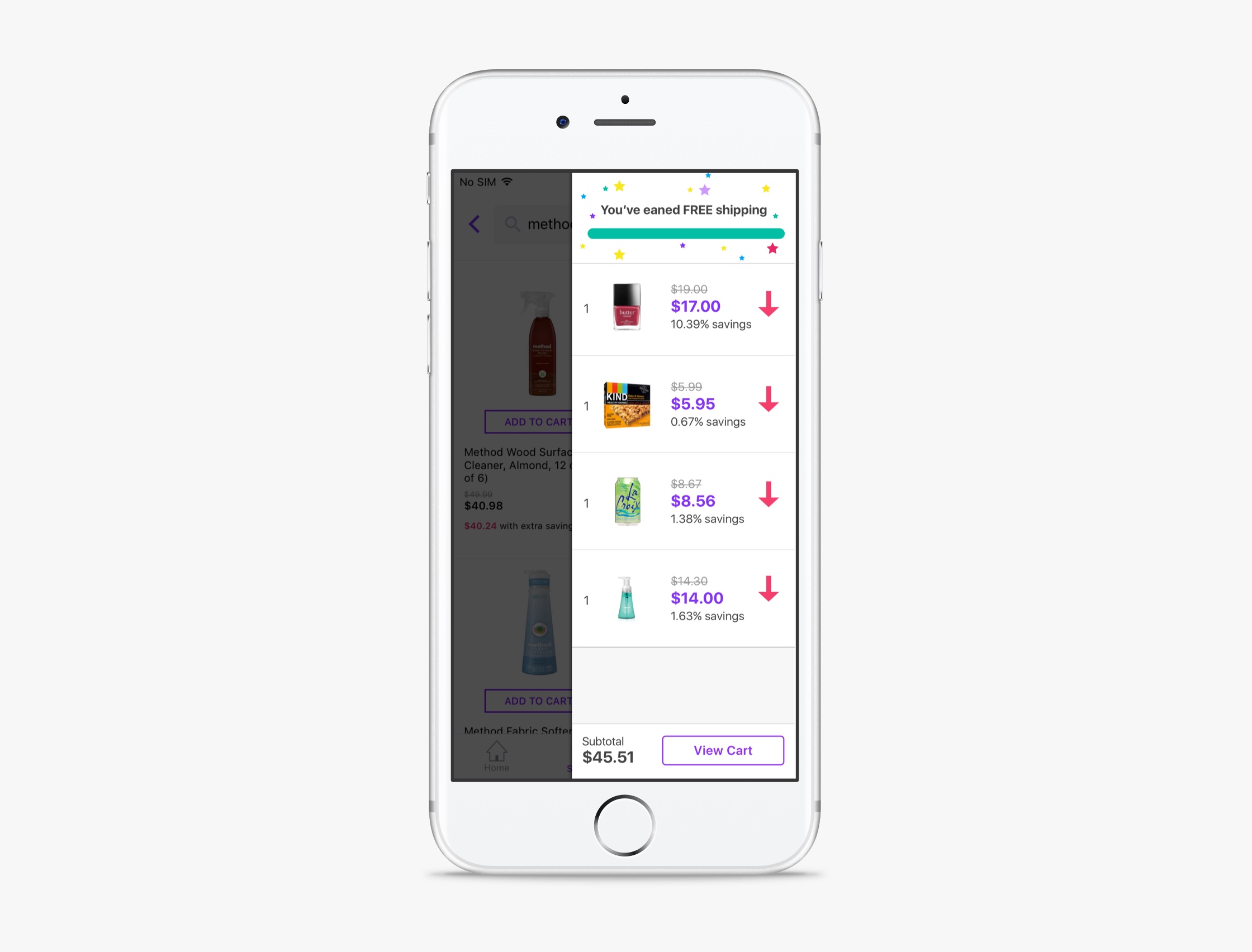 This is how it looked when we put everything together:






Building the solution


As the design process was providing solutions, we began to work with the development team to build the experience into a responsive site and an iOS and Android application. Since most of the customers begin their journey on a mobile device, we made all final design and development decisions for mobile and scaled from there.


Results
As we launched this new experience as an A/B test we conducted another round of quantitative research which found that:

8-10 customers understood Jet's value proposition
8-10 customers said Jet's prices were lower than other sites

6-10 customers said they would be willing to purchase at Jet


The qualitive data team, in turn, determined that this had translated into:


Higher order size

Higher order value
Higher average savings

Higher revenue per visit
(Actual numbers are not shareable)



In summary, our customers were actually finding value and having fun with the experience we had designed.


---